Township office : 517-243-5760
Office Hours:
Tuesdays from 4-6 pm (Treasurer in the office)

Thursdays from 4-6 pm (Clerk in the office)

Other times by appointment only
Board Members
Supervisor: Lee Chant - (989)224-7249
Treasurer: David Feldpausch - (517) 243-5760
Clerk: Lisa Powell - (517) 819-6132
Trustee: Trish Martens - (517) 712-2187
Trustee: Charlie Silm
Please see Hall Rental calendar for meeting dates and time.
Website Developed by: Trish Martens. If you live in Riley and have suggestions or additions for our site please contact Trish.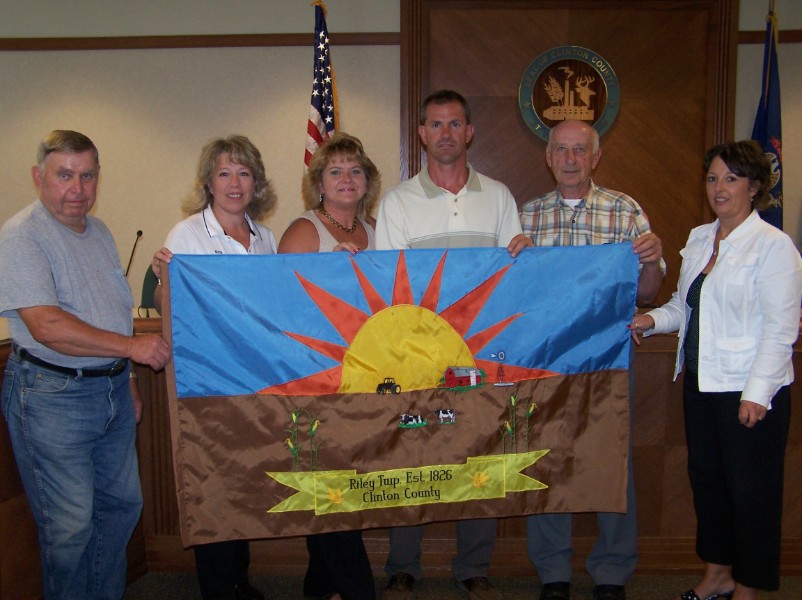 Riley Township flag, celebrating the heritage of our farming community, donated to the Clinton County Courthouse.
Designed by Trish Martens and hand stiched by Jeri Jastram (Jeri's Threads.com)
Presented to Diane Zucker by (from left to right) Charlie Silm, Jeri Jastram, Tricia Martens, Dave Feldpausch, Lee Chant, Diane Zucker