Burial lots in South Riley Cemetery are available for purchase.
South Riley Cemetery
Located on the east side of Lowell Road, about a half mile north of Cutler Rd, South Riley Cemetery has burial lots 117 - 136, 138 - 143 available as shown in the diagramto the right.
Sexton:
McAllister's Excavation & Cemetery Service, LLC
989-666-0206
Sexton shall not be given less than thirty-six (36) hour notice prior to funeral to allow for opening of the burial space
Contact the Riley Township Offices during business hours posted on home page to inquire on purchase or to discuss other items related to the South Riley Cemetery.
RILEY TOWNSHIP CEMETERY FEES SCHEDULE
EACH LOT OR BURIAL SPACE SHALL COST
$400.00 RESIDENT OF RILEY TOWNSHIP
$800.00 NON-RESIDENT OF RILEY TOWNSHIP

PERPETUAL CARE
$100.00

ANY TRANSFER OF ONE OR MORE BURIAL SPACES
$75.00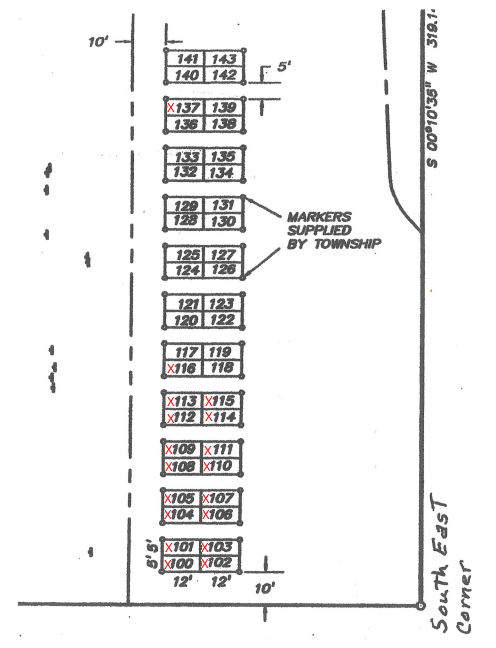 Cemetery Rules and Regulations